Ambu pulmonary products
Single-use bronchoscopes
Builds on over a decade of single-use bronchoscopy know-how
Ambu has built on over a decade of single-use bronchoscopy know-how to place a reliable, sterile and cost-effective solution in your hands. We launched the world's first single-use flexible aScope bronchoscope in 2009, and today over one million of our single-use bronchoscopes are used yearly in thousands of hospitals around the world.
Which Ambu single-use bronchoscopes match your clinical needs?
With our single-use bronchoscopy solutions, you always have access to a new sterile bronchoscope with consistent quality. But which product best supports your current requirements?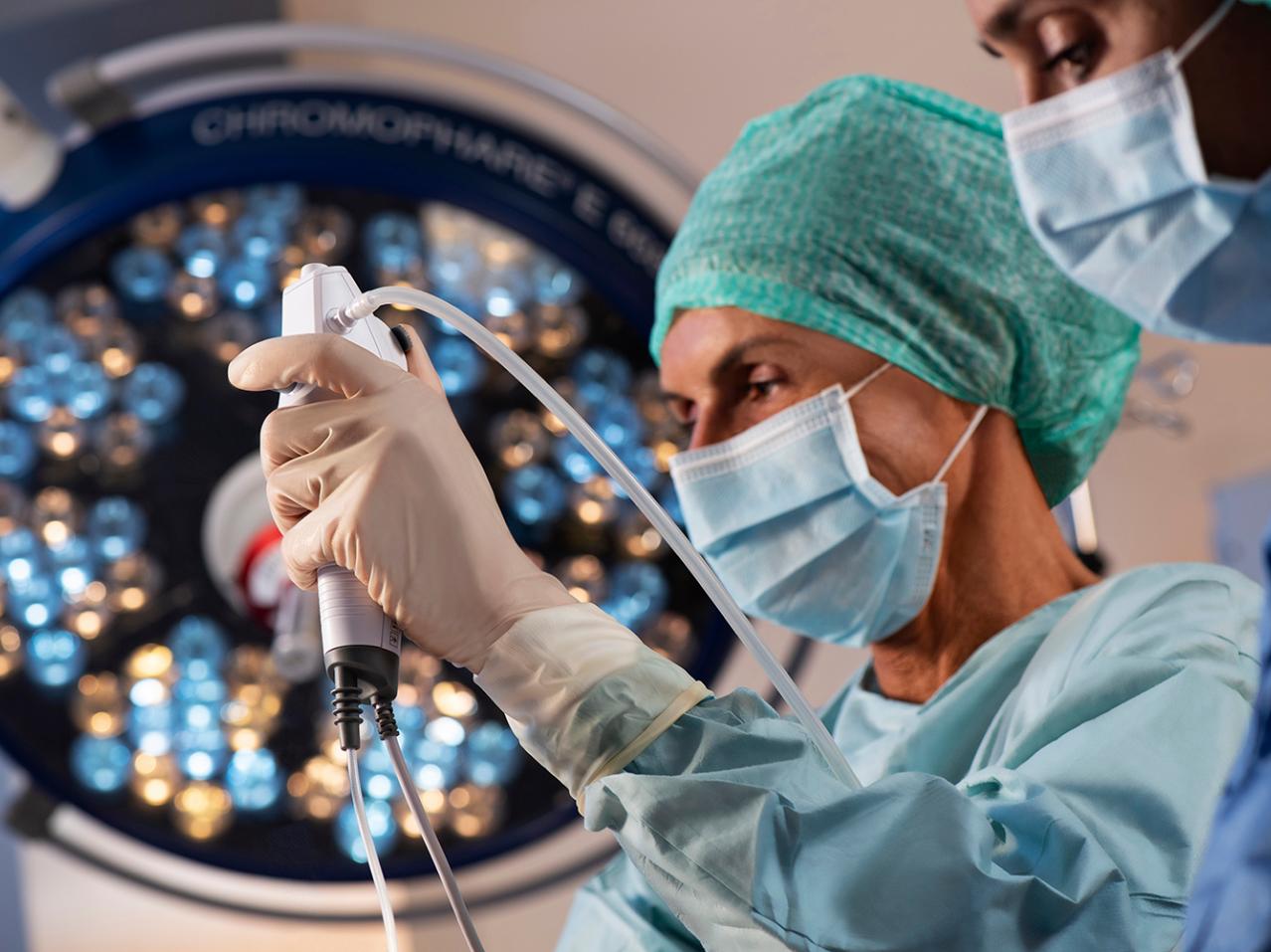 OR and ICU

Ambu® aScope™ 4 Broncho
The portability and essential performance you need for procedures ranging from intubations and thoracic anaesthesia in the OR to routine bronchoscopy in the ICU.
aScope 4 Broncho
aScope 4 Broncho is guaranteed sterile, always available and part of an integrated solution that improves safety, workflow and productivity. The bronchoscopes are compatible with the full HD resolution Ambu® aView™ 2 Advance displaying and processing unit, which can easily be connected to external monitors.
Ambu® aScope™ 4 Broncho
Our essential single-use flexible bronchoscopy solution. It can be used for a wide array of procedures all over the hospital, from intubations and thoracic anaesthesia in the OR to routine bronchoscopy in the ICU.
Ambu® aScope™ 4 Broncho Sampler Set
A closed-loop system, which protects the sample from start to finish and simplifies your workflow in the OR and ICU. The 30ml sampling solution is packaged together with aScope 4 Broncho Regular (5.0/2.2), and aScope 4 Broncho Large (5.8/2.8), respectively.
Ambu displaying and processing units
Our high-quality displaying and processing units are designed to work with our single-use endoscopes.
Ambu® aView™ 2 Advance
The lightweight aView 2 Advance, which is designed to work with aScope 4 Broncho, is easy to transport, set up and use.
aScope 5 Broncho in the bronchoscopy suite
Get a quick overview of the key findings of the latest peer-reviewed studies on clinical performance, infection control, single-use bronchoscopy in the era of COVID-19, clinical performance, cost-effectiveness and organizational impact relevant for aScope 5 Broncho.
aScope 4 Broncho in the ICU and OR
Get a quick overview of the key findings in the latest peer-reviewed studies on clinical performance, infection control, contamination, cost-effectiveness and organizational impact related to aScope 4 Broncho.
How do doctors rate the Ambu single-use bronchoscope?
A recent study1 showed a preference among physicians for the Ambu aScope 4 Broncho single-use bronchoscope and Ambu® aView™ monitor over standard reusable bronchoscopes they have used.
The preference may have been due to the quality of the imaging and the ability to bend up and down 180°.
1Kriege M. Dalberg J Et al, Trends in Anaesthesia and Critical Care
Evaluation of aScope BronchoSampler™
Open-access peer-reviewed research
In this article, respiratory consultant, Dr. Suveer Singh, presents the results of an evaluation, which was based on procedures performed at Royal Brompton and Chelsea and Westminster hospitals.
The results of the analysis were published on Karger.com. Prof. Pallav L. Shah reviewed the data and co-edited the manuscript. Among other conclusions, Dr. Singh found that aScope BronchoSampler is quicker, easier and more effective than standard sampling solutions.
The world's largest supplier of innovative single-use endoscopy solutions
Ambu has the largest single-use R&D team in the world, with over 450 dedicated engineers across three sites. They collaborate with medical specialists and personnel at our advanced production facilities to develop innovative products rapidly. Our modular design approach, infrastructure and vast experience enable us to develop high-quality single-use technology across clinical areas and to deliver it efficiently.
Fully focused on single-use endoscopy
Twenty percent of our single-use revenue is fed back into R&D, and in the next three years we are poised to launch dozens of single-use endoscopes across a range of clinical areas, including solutions for urology. With one experienced, reliable provider, you can standardize your single-use endoscopy solution across multiple speciality areas.
Ambu takes a stand on the environment
As the leading single-use endoscopy company, we feel a responsibility to set the right example with regard to the environment.
In the short term, we make transparent commitments, join partnerships and take actions that minimize our environmental impact throughout the product life cycle wherever possible.
In the long term, we are heading towards designing our products for recycling throughout the product life cycle. This includes using sustainable materials, reusing or recycling production waste and end-of-use recycling of our products at scale.