Procedures
Ambu single-use endoscopes can be used in a wide range of procedures, including nasal endoscopy, flexible laryngoscopy and therapeutic procedures.
Flexible laryngoscopy
Ready to use whenever you need it, the aScope 4 RhinoLaryngo single-use solution helps you be more productive both in outpatient clinics and inpatient consultations.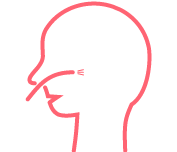 In-office biopsy
There is a way to avoid the risks, costs and time-consuming practices associated with standard biopsy methods. Learn more about in-office biopsies.