A high-quality, portable full-HD monitor for single-use endoscopy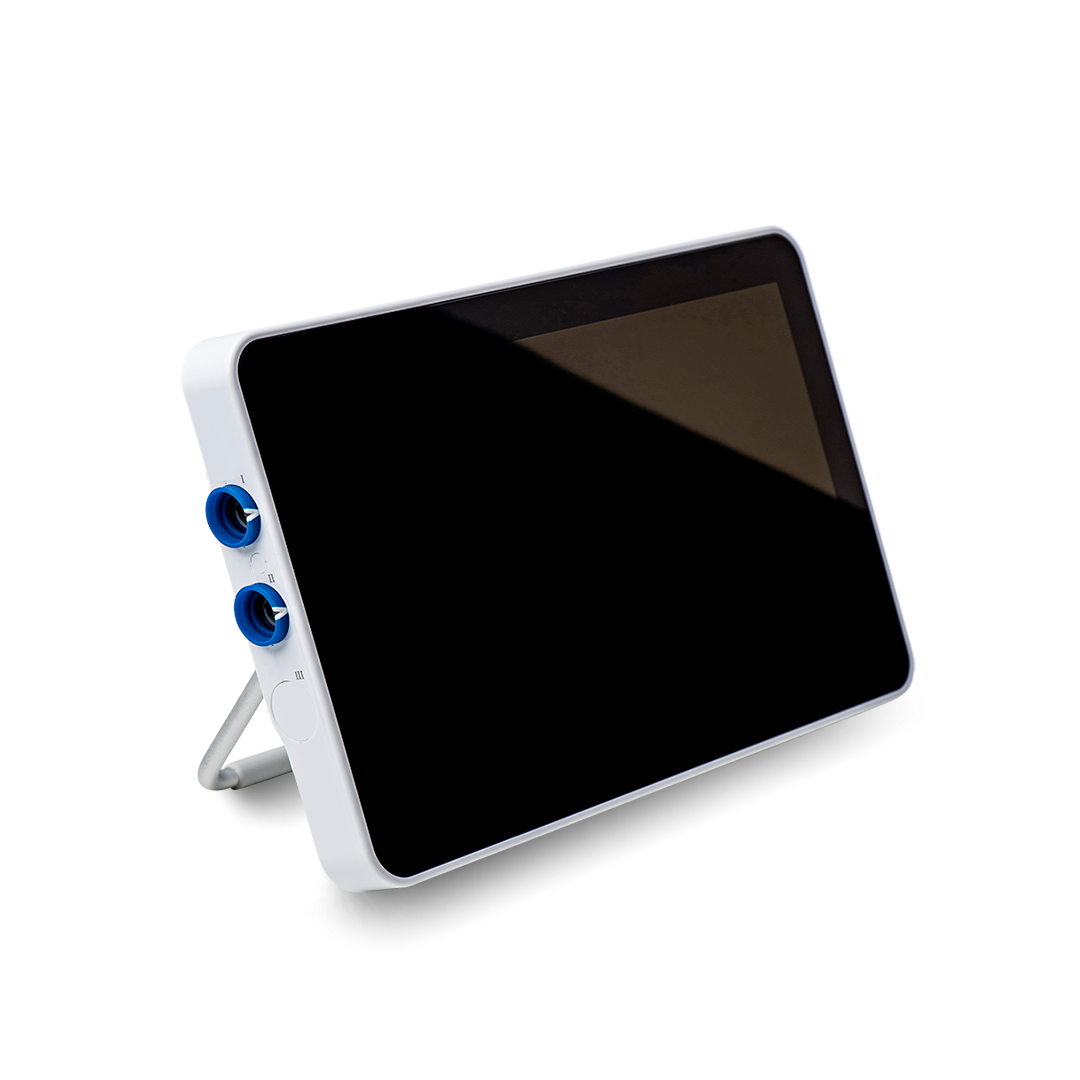 Helps you keep your focus on your patient
Ambu aView 2 Advance is a high-quality, portable full-HD monitor for single-use endoscopy designed to help you keep your focus on your patients.
Excellent imaging helps you perform procedures confidently
The high-quality aView 2 Advance monitor offers a range of features that give you clear, sharp imaging of the patient's anatomy.
Advanced image processing with adaptive light control on a 12.8-inch anti-reflective touchscreen with full HD resolution helps ensure continuous optimization of the image quality.
The monitor allows you to adjust colour, contrast, sharpness and brightness settings according to your preferences in varying clinical situations.
Flexible and intuitive solution streamlines your workflow
The aView 2 Advance monitor is easy to manoeuvre into a comfortable position close to you and the patient.
It fits into small spaces, and you can rotate it 180-degrees, so you can connect it in the best position for the given clinical situation; the graphical user interface will adapt automatically.
You'll see a live image within seconds of powering on the monitor, and you can take advantage of over three hours of unplugged battery-life freedom. When you're done, it's simple to clean and disinfect using commercially available wipes.
Forward-thinking design allows you to stay connected and updated
​Connectivity for today and tomorrow
Connect the aView 2 Advance monitor to the hospital network using WiFi or via the ethernet connection and easily transfer your recorded patient imaging data to the PACS to enable access from the EHR system.
If you need a larger image, you can connect to high-quality external monitors (via HDMI or 3G-SDI outputs).
Keeps you updated
The forward-thinking design also includes unused power and capacity that will enable you to upgrade. That means you can take advantage of the latest imaging capabilities, advanced features and future Ambu endoscope releases.
Repair options are available to help extend the lifetime of your investment if an unexpected problem should occur.
Introducing Ambu® aView™ 2 Advance
Specifications
Display
12.8 inch colour TFT 1920 x 1080 (Full HD) LCD touchscreen
Battery operation
More than 3 hours
Video out connections
HDMI or 3G-SDI (1080p @ 60Hz) digital video outputs
USB and network connection
Two high speed USB 3.0 interfaces, WiFi and LAN
EHR connectivity
Transfer images to PACS and integrate with Content Management System
Power requirements
100 - 240 V AC; 50 - 60 Hz; 1.0 - 2.0 A
Downloads
Brochures
Datasheets
Instructions for Use
Supplementary Information
(7)
May 2020
Note: US: Rx only